In 2018 we realized that health, medical and wellness publishers lacked a serious monetization solution so we built one. Our parent company, eHealthcare Solutions, was already working with hundreds of health publishers on the consumer and pro side. Since that time, Tap Native has become the leading health focused native ad platform and has been adopted by over 4400 top publishers.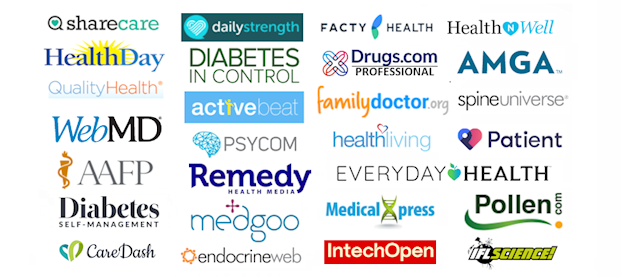 Tap Native ads are high quality image+text and text only ads which appear in the content. The units are responsive and the fonts and colors are customizable to match the publisher's brand. Here's an example below the articles on Everydayhealth.com.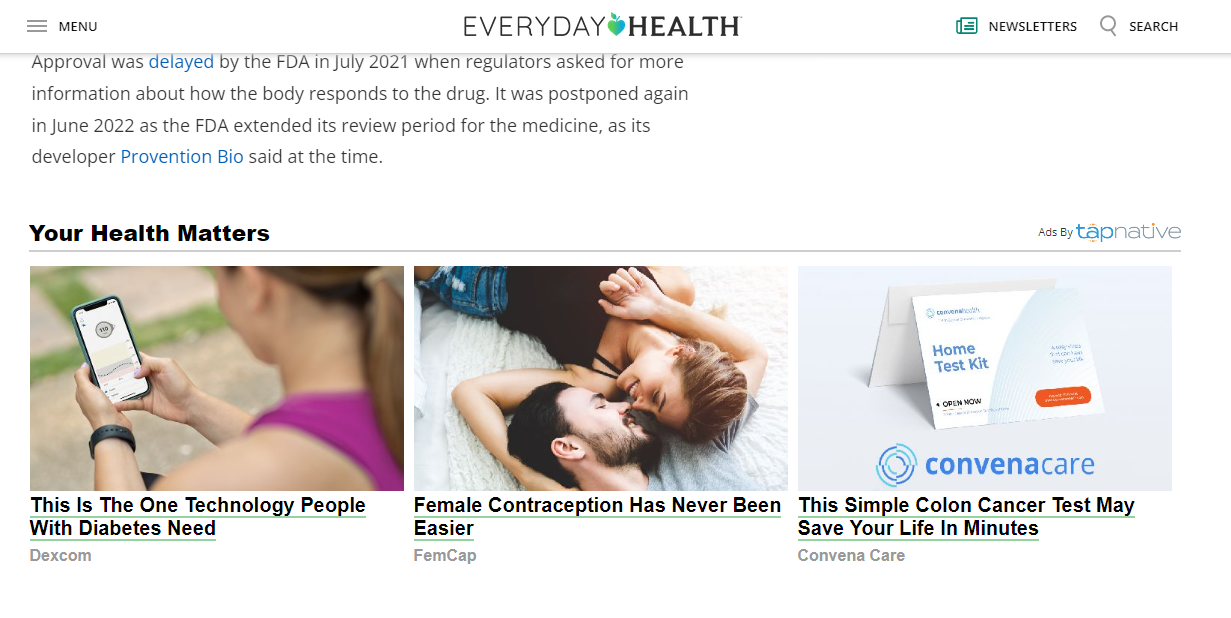 Audiences seeking health and medical answers are far more valuable than other audience types. Health and medical publishers that use generic ad providers leave an enormous amount of money on the table each month by failing to match their supply with the right demand. Tap's tech stack is uniquely designed for health and medical publishers and includes ads for consumers which are contextually targeted as well as ads for healthcare professionals which are audience targeted. When Tap Native detects a physician, nurse, PA or other HCPs, the system changes the ads in the unit to target the pro it detects specifically. Rates paid by advertisers to target healthcare professionals are significantly higher than consumer ads and CPCs and CPMs can be in $70.00 range. If even a small portion of your audience is made up of healthcare pros, you'll see a significant bump in CPMs. Here's the same ad unit that a healthcare professional would see.

Who's advertising with Tap Native? As of late 2022, over 6500 advertisers including top pharmaceutical brands, medical device brands, regional hospitals and medical centers, consumer products, healthy meal kits, medical associations and CME marketers.
The Tap Native dashboard provides all the reporting metrics you'll need to understand what's happening. This includes the types of ads the consumer engages with most and the percentage and type of HCPs that we detect on your page.

CPMs vary based on whether your audience is consumer or pro and the percentage of each. They also vary based on the size unit you choose and where you place the unit. We have a well-known consumer health site that uses our standard 3x2 below its articles and their CPMs are well over $20.00 consistently.
We also have a publisher's using our HCP responsive ad unit which can CPMs in the $40.00 - $60.00 range. This is a unit which only displays itself when it detects an HCP present. Its typically placed in the body of the article like this example.
Tap Native pays net30 at the end of each calendar month. January earnings are paid at the end of February, February earnings at the end of March. You can set your payment preference in the publisher finance section to receive an ACH direct deposit or a bank wire.
Tap Native tags are lightweight Javascript tags which have been lighthouse optimized, load lighting fast and asynchronously. We also offer a server-to-server integration for mobile apps.
It's so simple to become a Tap Native publisher, just create an account. Join us and see why hundreds of leading health and medical publishers have found a better way to monetize their valuable audience.