Hospital Content Marketing and Native Advertising
There are 4 fundamental characteristics inherent in every successful content marketing campaign we've fulfilled for hospitals and health systems. They are:
1. Reaching the audience while they're in the right state of mind –
You're far better off marketing to audiences who are actively engaged in browsing clinical health content because they are actively seeking answers to important personal questions. These folks are in-market now so it's critical that your offer is featured in health sites and SERPs related to your offer's key health terms. If you're buying across those rather noisy news sites, political sites, finance sites, tech sites and even social media platforms, you might be getting lackluster results because the signal to noise and user intent are both low. In tests we've preformed even retargeting past visitors that had just recently been in-market proved less effective because they're often no longer thinking about that condition anymore. SEO is great if you can get your links to show up in SERPs and if you can predict the costs of doing the SEO vs. what that will deliver in terms of valid traffic. Anyone whose spent time and money on SEO knows it can be extremely challenging and there is no guarantee. Tap Native reaches people across 400 of the largest health sites on the Web like Drugs.com, Familydoctor.org, EverydayHealth.com, Sharecare.com and Facty.com. Many of the users we reach come directly from a SERP right into the publisher's article.
2. Contextual placements rule -
Reach your audience contextually as much as possible. Being featured on health sites is great but even health is too broad a vertical when you're marketing specific services from your hospital. If the health site or article is about psoriasis and you don't offer that treatment, you're wasting time and money being there. Here again is where buying specific search terms can be highly effective because user intent is clear. Search terms are expensive and can cost $5.00, $10.00, $20.00 per click for many high value terms. But if you can get your offer plugged into topical content pages where users land directly after doing a search, you're far more likely to reach "in-market" users. This means that your org's heart surgery offer appears in heart surgery and cardiovascular content. This means your Botox Injection offer appears in content about facial wrinkles, frown lines and beauty tips. It means your offer for fertility treatments should be featured alongside content about fertility, infertility and pregnancy. Tap Native ad units provide this type of precise contextual targeting across all 400 sites. Our system also enables advertisers to target fertility drug names, drug classes and over 12,000 OTC and 9,000 RX drug terms organized in a relational database that makes intelligent healthcare marketing child's play.
3. In-content native advertising garners far more engagement –
It's no secret that the masses increasingly block out banner ads and focus on the content sections of Web pages. This is precisely why Tap Native ad units are integrated above, within, or below editorial content just like this example integrated into this article below.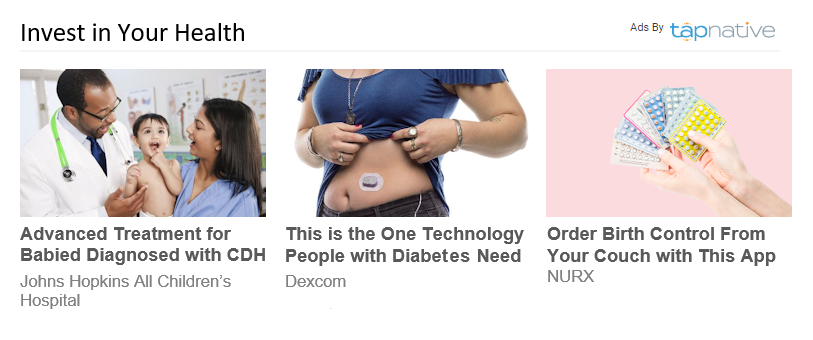 Seventy percent of individuals want to learn about products via content vehicles rather than through traditional advertising. For all these reasons it is important for us to reach users while they are consuming content so we catch them in the right frame of mind, contextually and within the content they're consuming.
4. Measuring a cost per action (CPA) –
Hospital marketers measure all sorts of desirable downstream Web actions they hope to achieve. Conversions could include newsletter sign ups or specific engagements with key content articles or videos. For hospitals and health systems those actions are important but the most critical of all seems to be lead form fills. Most of our hospital and health system marketers feature lead capture forms prominently within their content. These forms display bold headers that read, "Get more information on fertility treatments". Lead forms drive patient acquisition because they bridge the gap from online to in person. Some form fills are more valuable than others. Tap Native works with each of our marketing partners to understand the desired Web action and we can optimize the targeting and creative to achieve that result.
When you're creating an ad, you'll be able to specify a radius around your service area, for example 30 miles. If you have mutiple locations, you can bulk upload zip codes for a perfect service footprint mapping.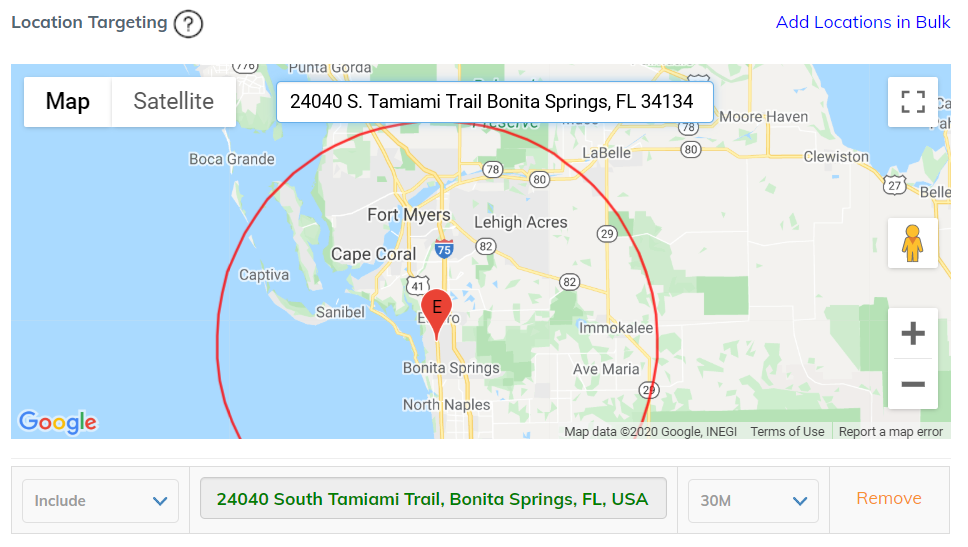 You can create an ad on Tap Native in less than 2 minutes. You'll need 4 elements. An image (1000x600) in PNG or GIF format. You'll need a headline which can be up to 60 characters including spaces. You'll need a source and a landing page URL. Creating ads and assigning contextual and geo targets is simple with our intuitive self-serve interface. If you need help, just ask! We're happy to guide you toward a scalable, cost effective content marketing solution for your hospital or health system.
If we can be helpful, please let us know.