Healthcare professionals of all types are among the most valuable target audience for digital marketers. Tap Native provides digital publishers the option to "tap" into these budgets which includes hundreds of high-quality advertisers and millions of dollars in demand. Here are just a few of the advertisers that use Tap Native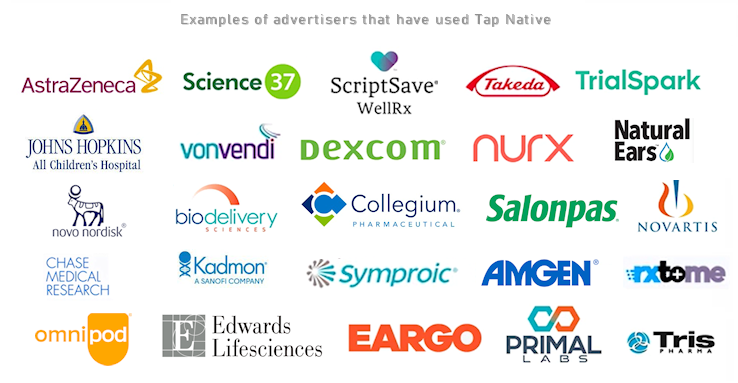 Tap Native ads are not banners but rather customizable content style ads which are integrated inside or directly below the content of popular health and medical websites. Tap Native ads are not branded and come in many different configurations. Here's 2 popular examples.
In-article 1x1 - This fully responsive single slot unit is most often integrated into the content and offers the highest CPMs. The unit only displays itself to authenticated HCPs and does not render for crawlers as crawlers as not authenticated HCPs. The ad unit adjusts to all browser and device types. Its fonts, font colors and other attributes can be customized to match the style guidelines of the website(s) where it is integrated.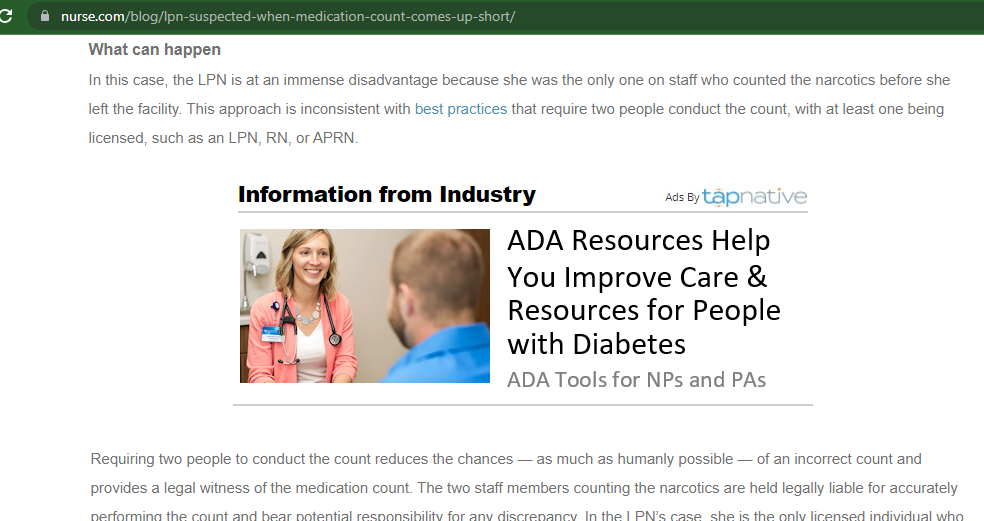 Below-article 3x1 – This fully responsive unit also adjusts to all browser and device types and is fully customizable to match the style guidelines of websites where its integrated.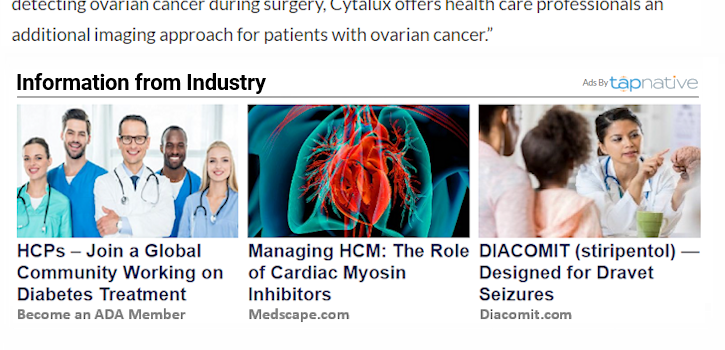 The Publisher dashboard displays near real-time analytics including impressions served, clicks, CTR, CPMs and earnings. The dashboard also reports insights such as the overall percentage of the site's audience who are "authenticated HCPs" and a breakdown of the medical specialties. Reporting displays a full list of every single HCP, the system has identified including their full name, profession, specialty and NPI number. This report is searchable and exportable.
Publisher Dashboard Home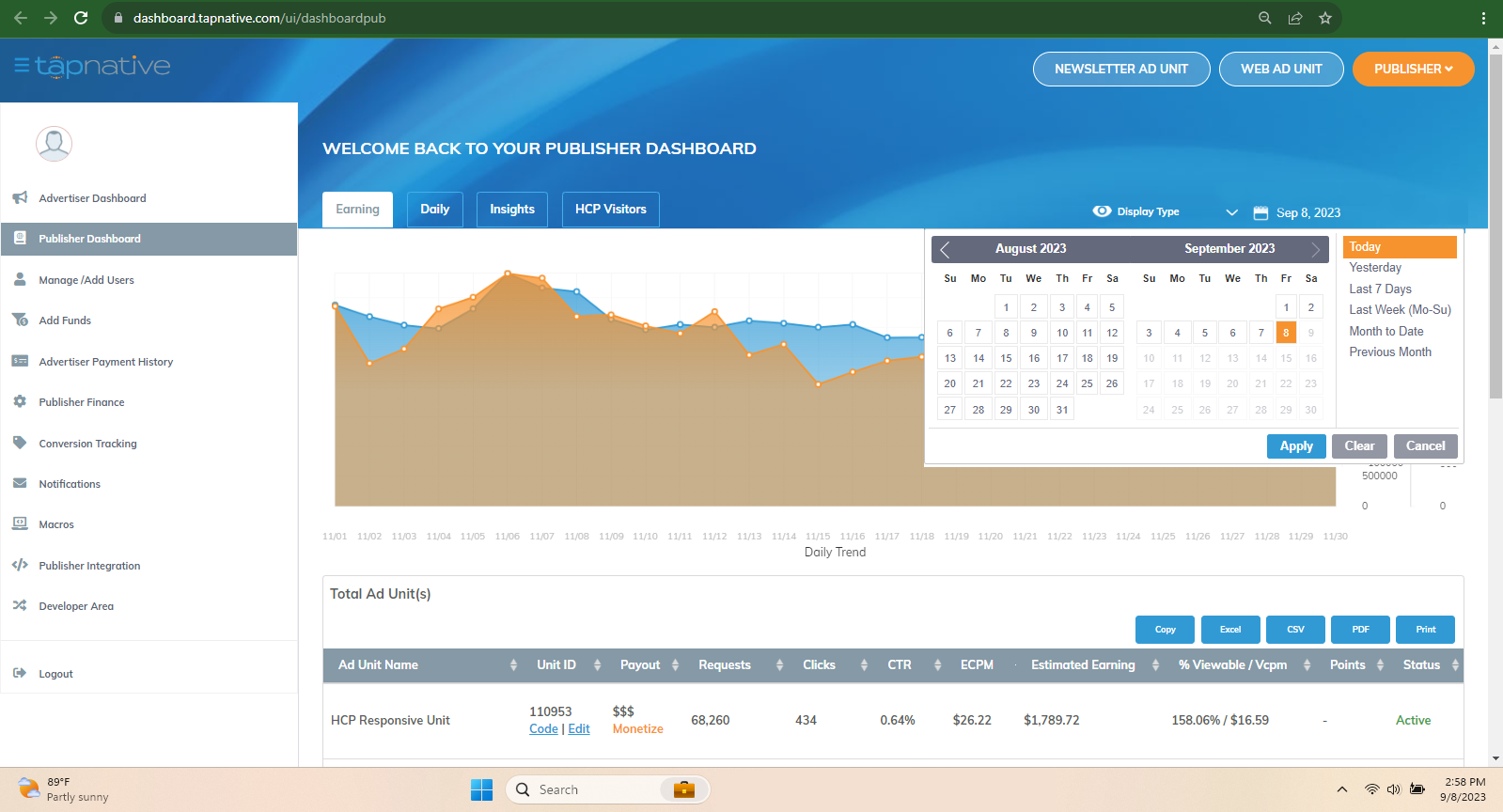 Insights Tab
HCP Visitors Tab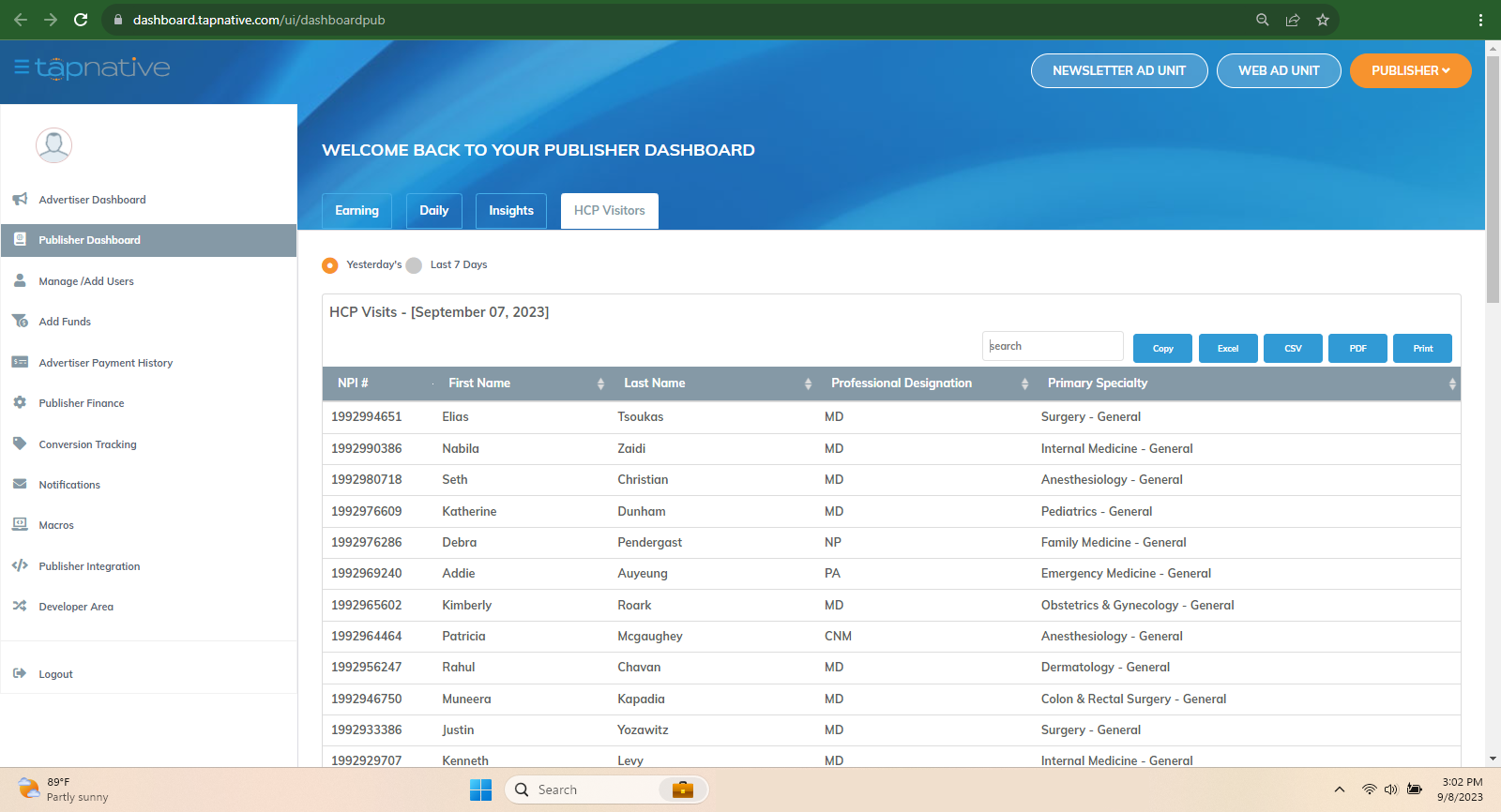 Hundreds of high-quality websites now feature Tap Native ads. For many, Tap Native has become their single largest source of ad revenue. In most cases, Tap Native revenue does not displace a dime of the publisher's existing display revenue and becomes an entirely new revenue stream.
Are you ready to TAP into millions of dollars in native ad demand from hundreds of live HCP campaigns? Are you ready to see CPMs in the $30, $50, $80 range and get a better handle on your HCP visitors? Let us know you're interested in a test and we'll setup a dashboard and ad unit just for you. You can create an account below to get started.