When marketing plastic & cosmetic surgery procedures, one need only follow how patients do their research before buying. Would be patients most often visit their favorite search engine to learn more about specific cosmetic procedures. Most searchers scroll past sponsored links and instead visit the organic listings which are filled with articles from health sites like Everydayhealth.com, healthday.com, WebMD.com, Sharecare.com and many others. According to the American Society of Plastic Surgeons, in 2021, approximately 92% of all cosmetic plastic surgery procedures were performed on women. Audience demographics for health sites, like the examples above are also heavily weighted to women. The most commonly requested procedures for women include breast augmentation, liposuction, and tummy tucks. Botox, rhinoplasty, eyelid surgery and dermal fillers are also in high demand.
Tap Native ads are native ads meaning that they are formatted to look more like content than ads. Our ads are also contextual and geo targeted. This means that offers for plastic and cosmetic surgery are featured on content pages of the same topic. Below is an example of a Tap Native ad unit with an example of a plastic surgery ad.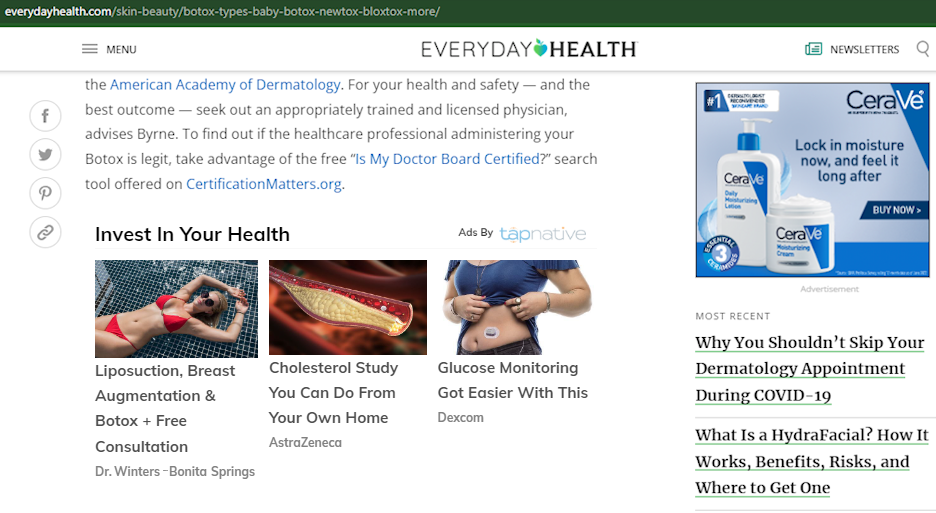 Note the image in the ad displays what appears to be the "after" photo. This most effectively communicates the end result for any procedure a prospective patient might be contemplating. Also, in the example, the headline mentions several procedures and offering a free consultation is always advised.
Only web visitors located within a specified radius of the providers practice are shown the ad. Tap Native advertisers can designate a specific radius around their practice.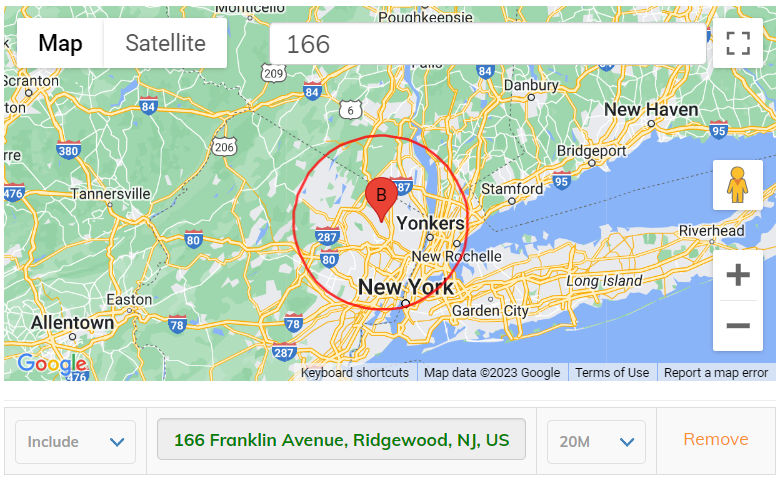 The cost per acquiring (CPA) a new patient for cosmetic & plastic surgery procedures varies based on the procedure sought and marketing strategy used to engage the patient. Traditional marketing methods such as print ads and billboards can be expensive. So can social media and search engine advertising. Marketing on Tap Native has been an effective channel for thousands of health focused advertisers and marketers. Many found their least expensive cost per patient acquisition right here. For some plastic and cosmetic surgery procedures, we've seen CPAs in the $140 range. Of course, CPAs vary significantly by market and by procedure sought. Tap Native pricing is a cost-per-click model. CPCs for local cosmetic dentistry come in around $1.65 which is significantly less expensive than search clicks which can average as much as $10.50 per click. Tap Native's brand of native advertising displayed within popular health content may also be a more scalable marketing option.
We believe our brand of in-content native ads displayed across hundreds of health websites where women congregate can be one of the most powerful channels to acquire new patients. Creating ads is simple, you can start with as little as $500. Your ad can be live in around 10 minutes. If you need help or want a demo, just ask.